ICEPICK is a New Zealand company specialising in developing iPhone and Android applications for business.
Here are some of our recent projects...
GeoOP is software as a service (SAAS) that tracks your mobile team in real time and manages their workflow. The scheduling system lets office-staff assign workers to jobs based on location and availability. Using mobile phones, tablets and GPS, GeoOp tracks the workforce and jobs in real time. Through either an iPhone or Android application, Mobile workers can see Jobs allocated to them with all the customer details, a map of how to get there and turn by turn driving directions. They can record time and notes against jobs, allocate parts, upload photos, record signatures, update the status and take credit card payments for jobs.
As soon as jobs are completed they can be invoiced to clients; GeoOPs integrates seamlessly with Freshbooks or XERO online accounting.
GeoOP is the platform that was used by the Volunteer Army to manage the thousands of volunteers and jobs in their clean up work after the Christchurch earthquakes.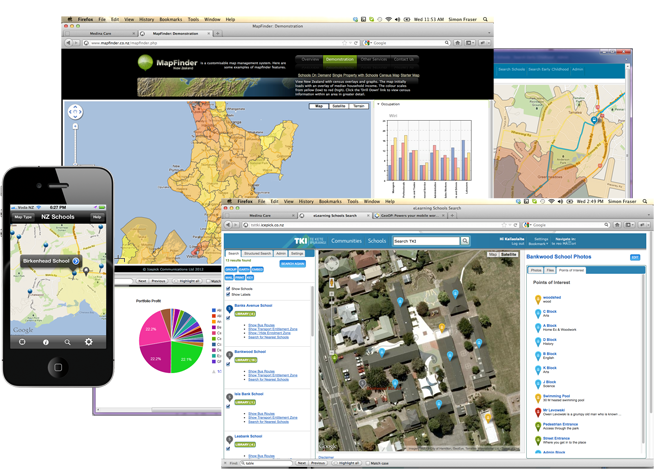 Mapfinder is our spatial platform designed to manage, query, and display spatial data on iPhone, Android and web based maps. In a nutshell, it lets you search and combine statistical information with spatial data and present it in a visually compelling way.
Barfoot and Thompson and Ray White use Mapfinder in their realestate websites to calculate and show what schools are in enrolment zone or nearby for all their property listings. They can also chart a wide variety of demographic information based on the property's location. The Ministry of Education do the same sort of thing in their nzschools.tki.org.nz site as well as overlay bus routes and other spatial information. .


Medina Care
Medina is a company based in the Netherlands that specialise in provision of anaesthesia in medical operations. We worked with Medina to specify and build a specialist iPad and iPhone application to do pre-operative screenings of patients. Patients are guided through the process, filling out a questionnaire on an iPad in the clinic and watching a video informing them of the procedures they will be going through. From this point the application manages the requirements for information and communication between the clinic, patient and anaesthesiologist in a secure way to the point where the operation can be booked. A back-end web function lets Medina manage the questionnaire and consent process.


Mapping Solutions
Check out MapFinder, our hosted mapping solution allowing you to easily integrate maps into your website .

Web Application Development
Icepick provide a complete solution for your web development project, from specification, application design, graphic design and programming.
Consultancy
Web strategy, application and database design, technical consultancy services for web and mobile applications.

Mobile Applications
The Icepick team have a wealth of experience in writing applications for mobile devices, including SMS, ANDROID and iPhone applications, GPS positioning and mapping.